Matcha Collagen Latte: How Matcha and Collagen Peptides Work
---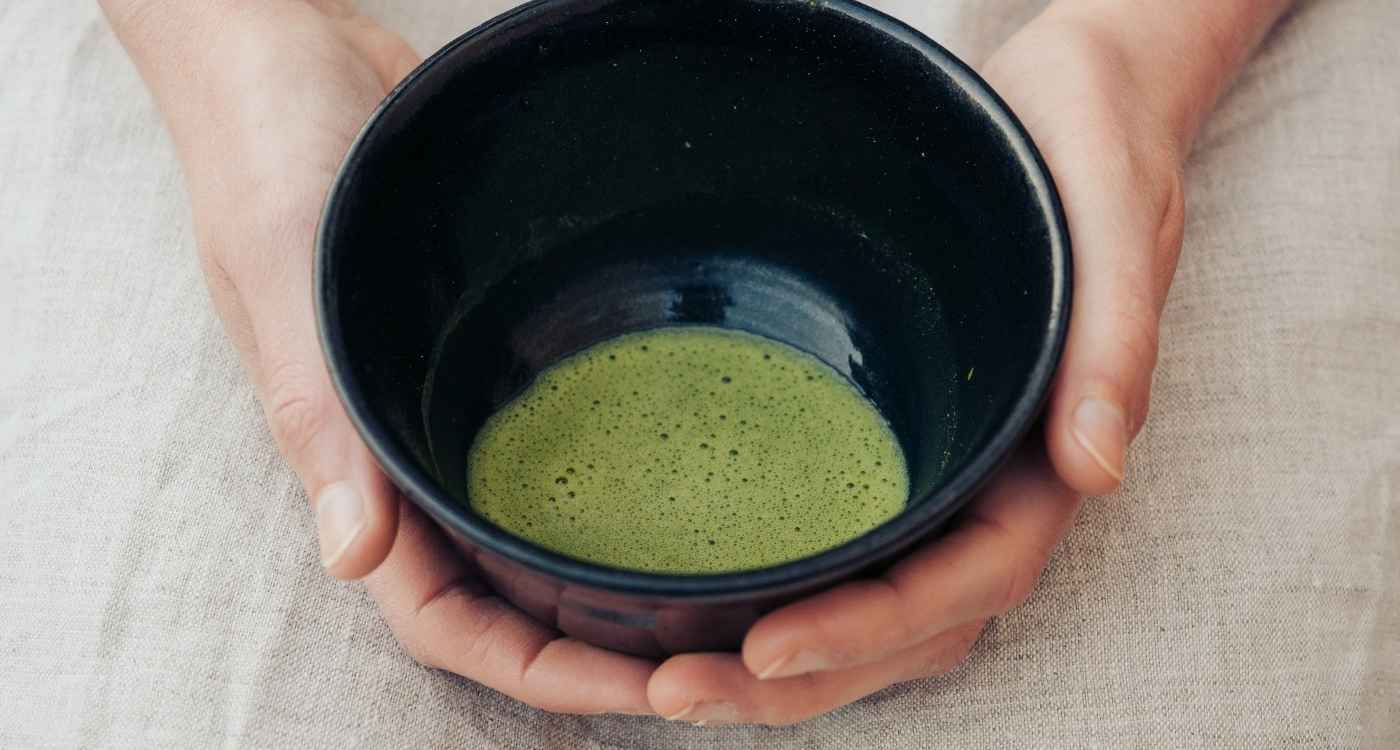 Matcha Green Tea As Anti Aging Skincare?
'Matcha collagen peptides' is the new skincare trend that combines matcha and collagen into a daily drink to boost the healthy appearance of skin, reduce wrinkles naturally, improve joint health, and boost metabolism.
You may be wondering how collagen and green tea matcha work together, or why it's recommended to combine these ingredients for skin, joint health, and metabolism benefits.
This article covers how collagen and matcha provide health and skincare benefits, and why matcha green tea can be more functional to long term health.
Let's take a look at matcha and collagen peptides to see why you should incorporate a matcha collagen powder latte into your daily routine.
Collagen Matcha Powder: The Best Collagen Powder?
Since most people are familiar with matcha health benefits already, let's first talk about what is collagen.
Collagen is the glue that holds our bodies together, and collagen tissues range makes up our tissue from bones, ligaments, skin, and muscle structure in the body.
Just like other proteins in your body, all types of collagen are made from amino acids. Collagen is also unique for its high concentration of glycine and proline amino acids. Your body's collagen health can be influenced by lifestyle factors like stress, diet, and sleep.
Here are two important questions when it comes to collagen alone.
1. How is Collagen Absorbed in the Body?
Since the decline of collagen in the body results in skin wrinkles, joint problems and brittle hair, you want to make sure they are getting enough. But can your body absorb collagen directly?
Yes, multiple studies show that the body absorbs collagen effectively through collagen supplements, also known as hydrolyzed collagen. Collagen that is hydrolyzed is already broken down and easier for the body to digest and absorb directly.
2. What are Collagen Supplements for Hair, Skin, Nails, Joints?
Studies show that collagen supplements are proven to increase the strength and appearance of hairs and nails, naturally reduce wrinkles, and help in relief of joint pain.
Other supplements work with collagen to boost collagen levels in the body, including vitamin C, hyaluronic acid, and horsetail or bamboo silica.
This is where matcha and collagen come together for benefits in health and beauty.
Matcha Green Tea: Nutrition and Antioxidants
Studies show that matcha green tea has proven health benefits. It is high in antioxidants, more than blueberries and acai.
Matcha boosts brain function and focus, improves mood, promotes heart health, boosts metabolism, and may help you lose weight.
Matcha green tea and collagen peptides make for a great (some say the best) collagen supplement. Why?
Collagen peptides make skin appear healthier and younger, reduce wrinkles naturally, make skin hydrated, grow hair and nails longer and stronger, help with hair loss and thinning, and support a healthy immune system, gut, joints, bones, and muscles.
Matcha is a great choice for its antioxidants, vitamin C, and antioxidants, which can help prevent collagen from being damaged by oxidative stress.
The flavonoids and epigallocatechin (EGCG) found in matcha powder are shown to prevent oxidative damage.
Further, matcha tea also contains vitamin K, which is involved in regular elastin production, a protein that helps collagen cells maintain their structure in the skin.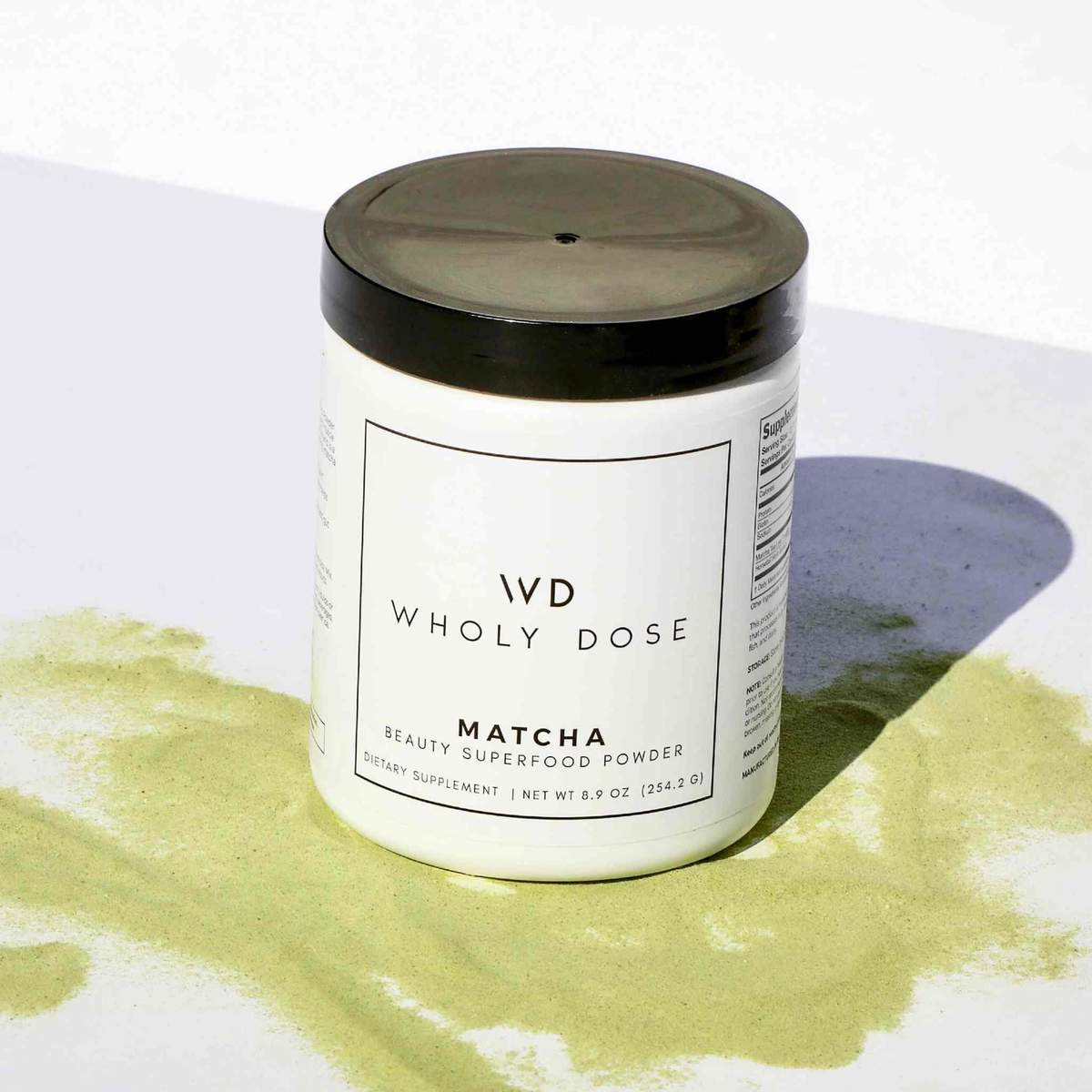 FOR YOUR MATCHA COLLAGEN LATTE

Collagen Matcha Powder Recommended By Doctors and Nutritionists

Collagen Protein: Amino-Acids
The collagen peptides in matcha collagen powder blends do contain an added protein boost, known as the amino acids glycine and proline. The matcha green tea powder itself also contains powerful amino acids called L-Theanine.
Matcha Green Tea Antioxidants and Stress, Skin, Joint, Collagen Health
Besides working in many ways inside the body, the basics of matcha health benefits still apply.
The antioxidants in matcha tea have protections against many stressors, most which are also associated with aging.
Matcha may also help balance cortisol levels, which when elevated, can damage collagen in the body, further benefiting your hair, skin, nails, and joint health.
With daily use of matcha collagen powder supplement, paired with a balanced diet and getting enough sleep, you can boost the health of bones, joints, and metabolism, while also improving hair, skin, and nails.
The Bottom Line: Drink Matcha Collagen For Health and Beauty Benefits
Premium matcha tea on its own is a great dietary source of collagen protecting antioxidants, as well as each of those essential nutrients, like vitamins and amino acids, required for natural collagen production.
For the most optimal health in hair, skin, nails, metabolism, and joints, use a matcha collagen peptides powder supplement daily to protect your body against stressors related to aging, joint pain, wrinkles, dry dull skin, and hair loss.
---
---